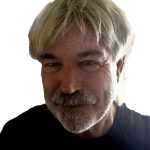 Describing himself as having a creative soul, for many years painting was Eddie McHugh's preferred form of artistic expression. Later, due to the time constraints of running his own landscaping business, he turned to photography as a more efficient creative outlet. Eddie soon found a new love in photography, with the blend of brevity and artistry being the perfect form of expression for him.
His subject matter is varied and will often feature everyday scenes which most of us would simply pass-by unnoticed. However, with his eye for the creative, Eddie will ingeniously create a stimulating and emotional image from seemingly nothing. Many of his photos exhibit a documentary style which, at times, have a satirical or ironic edge, giving the viewer a glimpse of his light-hearted sense of humour for which he is known.
Eddie lives aboard a houseboat in the beautiful Pacific Northwest where his neighbors include beavers, otters, eagles, heron, seals, bats and every concievable kind of waterfowl. He has a mounting collection of accolades from the US, Canada and Europe. These include exhibits in the LACDA in Los Angeles, the Elements group exhibition in Barcelona, photos in the permanent archives at the Musee d'eLysee in Switzerland, twice finalist at the London Photographic Awards and has photos published in Weird Washington Travel Guide and the Natural Skagit.
TheCliffWalk.com is a collection of Eddie McHugh's most recent work. Updated regularly it's a great source of vivifying images.
Balancing Art and Image. Eclectic and revealing Images drawn from my home in the beautiful Pacific Northwest, USA.
Links
Fine Art Photography
Copyright Eddie McHugh.